Park Place BodyWerks
3316 Atwell Street
Dallas, Texas 75235
214-443-8250

Phone:

214-443-8256

Fax:
Maps and Directions
Accident Forms
Hours of Operation
Monday - Friday
7:00am - 6:00pm
One of four certified Rolls-Royce repair, paint and body shop facilities in the country
One of only 10 certified Bentley body shop and repair facilities in the nation
The largest Mercedes-Benz certified repair and body shop in the state of Texas
Authorized Lexus dealer collision repair, body shop and paint facility
The only certified Volvo dealer repair, paint and body shop facility in the Dallas Fort Worth Metroplex
One of two Nissan GTR Certified facilities in over 1000 miles
Highest volume certified Porsche dealer collision repair and paint facility in the Southwest United States
AkzoNobel announces First FIT Sustainability Award Recipients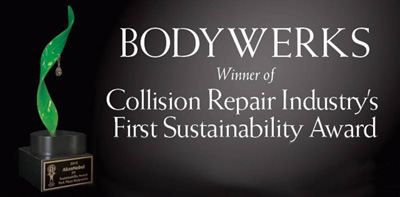 (Norcross, GA - April 3, 2010) AkzoNobel Car Refinishes Americas has announced the first recipients of the "FIT "Sustainability Award. Receiving the 2010 award will be Park Place Body Werks of Dallas, Texas and The California Autobody Association headquartered in Sacramento, California.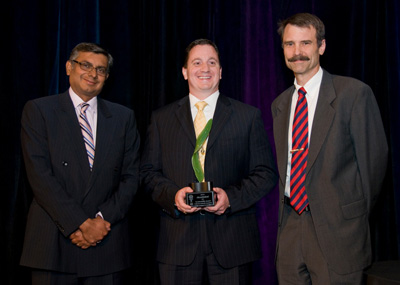 Eric McKenzie, center, director of Park Place Bodywerks holds the FIT Sustainability Award 2010 presented to his firm by AkzoNobel. The award recognizes Park Place Bodywerks' efforts to identify and implement greener ways to work. Left is A.B. Gosh, general manager of AkzoNobel Car Refinishes Americas. On the right is Mike Shesterkin, sustainability officer for AkzoNobel Car Refinishes Americas. "FIT" is an acronym for the three key measurement criteria of the award: Focus, Innovation and Talent. This award, an industry innovation of AkzoNobel, was created to promote the leadership role and unique contributions which the collision repair industry is making to generate a more sustainable future.

Tim Loden, Director of Marketing for AkzoNobel Car Refinishes Americas noted, "While each of two entities receiving the 2010 FIT award are different in business scope and focus, they share a common bond in their aggressive pursuit to deliver sustainable, environmentally-focused business solutions to the collision repair industry. They have found innovative ways to meet the needs of the present without compromising the needs of the future."

"The collision repair industry can help contribute to a healthier environment in many ways, by working smarter and adopting lean practices, using eco-friendly waterborne paints, and recycling materials like metals and glass. And in these economically challenging times, we realize that energy efficiency also results in significant cost savings," said Gigi Walker, President of the California Autobody Association and owner of Walker's AutoBody in Concord, California.

Walker continues, "California Autobody Association is honored to be recognized by AkzoNobel with an award that will help to raise awareness of the great strides our industry is making to improve sustainability, reduce our environmental footprint, and preserve natural resources."

Eric McKenzie, Director of Body Shop Operations in Dallas, Texas, agrees. "As an industry, we have a responsibility to be good corporate citizens, and finding greener ways is good for the environment and good for business. Even the smallest actions add up to make a significant impact."